The Youth Excellence Cello Ensemble Program, designed and directed by Louise King, provides a monthly ensemble for intense group rehearsal and development for young aspiring musicians who wish to be mentored in classical contemporary music performance practice including exploring improvisation, jazz and world music.

FREE CLASS TRIAL CONTACT Louise 0415 128799
DATES 2020
EUDLO Hall Sunshine Coast
Thurs 13 Feb 6:30-7:30pm
Thurs 12 March 6:30-7:30pm
Thurs 23 April 6:30-7:30pm
Thurs 21 May 6:30-7:30pm
Thurs 25 June 6:30-7:30pm
Thurs 20 August 6:30-7:30pm
Thurs 10 September 6:30-7:30pm
Thurs 22 October 6:30-7:30pm
Thurs 19 November 6:30-7:30pm
YOUNG CONSERVATORIUM CELLO ENSEMBLE PROGRAM BRISBANE
WHEN Saturday
Term 1 – 1 February – 28 March
Term 2 – 25 April – 13 June
Term 3 – 18 July – 12 September
Term 4 – 10 October – 31 October
WHAT Beginner, Intermediate, Advanced Ensembles
WEEKLY 9:30-10:30am, 11-12pm, 12:30-1:30pm
VENUE Young Conservatorium QCGU South Bank room 1:21
To book your free trial and more info on the Young Con Cello Ensemble program please contact young-conservatorium@griffith.edu.au


PERFORMANCE OPPORTUNITIES!
Take part in public concerts – opportunities announced throughout the year!
Saturday 7 March 7pm Bushfire Benefit Concert Maleny RSL
Sunday 15 March 2-4pm St. Patrick's Day Celtic Concert Eudlo Hall
Sunday 10 May 2pm Mothers Day Concert Eudlo Hall
Sunday 21 June 2-5pm Musicians Without Borders Global Day of Action Concert Eudlo Hall
August Sunshine Coast Music Eisteddfod
Horizon Festival Sunshine Coast
Sunday 20 September 5pm Playing For Change Day Fundraising Concert
Friday 4 December 7pm Student End Of Year Concert Eudlo Hall
Saturday 12 December 7pm Christmas Carols Concert Palmwoods Hall
VENUE Eudlo Hall, Rosebed Street, Sunshine Coast.
COST $35 per session includes food and drink.
EARLY BIRD DEAL $150 x 5 classes or $225 for 9 classes. Book & pay online before classes commence for early bird deal.
JOIN Book your place in the ensemble now. Limited places available. Teacher recommendations of talented students welcome.  Not sure if you make the grade? Book in for an audition by mentor Louise King on 0415 128 799.
BOOK Easy payment in our online shop.
DETAILS Music is provided. A minimum of 4 students per class is needed to ensure the ensemble program runs.
WHAT TO BRING cello, bow, rosin, music stand, end-pin stopper, pencil and eraser, imagination, courage.
MORE INFO info@cellodreaming.com.au | 0415 128 799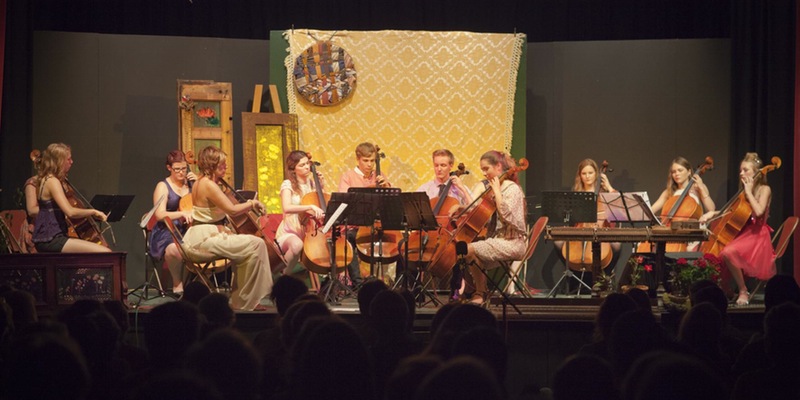 about
Join the Cello Dreaming Youth Excellence Ensemble program is dedicated to providing top classical training to developing young talent. Mentored by one of Australia's most dynamic and highly regarded professional cellists and Teaching Artists, Louise King, young musicians will experience unique opportunities to perform as soloist, chamber musician and within a cello orchestra before local and national audiences throughout the year.
history
Cello Dreaming Youth Ensemble has performed as guest act for singer-songwriter Katie Noonan, at Woodford Folk Festival, Caloundra Fringe Festival, Imagineers Festival, City Hall Concert Series Brisbane, Dreaming BIG concert series, Horizon Festival, Sunshine Coast Australia Day Awards, community concerts, outreach projects and special events and weddings on the Sunshine Coast and Brisbane. The Ensemble has won first, second, third and highly commended in many Eisteddfods. Music for Social Change charity performances includes fundraising concerts for Playing For Change Foundation and Musicians Without Borders. The increase in committed and talented members will result in more high profile performance opportunities being created and if funding is secured, an overseas tour.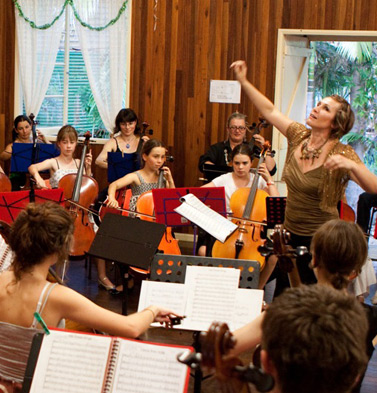 cello dreaming mission
Cello Dreaming's mission is to provide exceptional quality training to talented, committed and motivated youth students who want to be mentored in classical contemporary music performance practice and would like to learn musical and creative business skills that open pathways into a professional music career.
Whether your goal is to be a professional musician or lead a life rich with artistic meaning, Cello Dreaming Youth Excellence Program builds skills for success. The Youth Excellence Program is a learning environment where every young musician develops musicality, hard-core technique, leadership skills and teamwork through playing quality classical music in an ensemble and chamber music. Through rehearsing and performing at special events, community and charity concerts, media appearances, and community outreach projects, Cello Dreaming encourages talented students to use their unique talents to create social change through music. Louise as your mentor guides each student to make an active contribution to our community.
CONDITIONS
A place in the class is issued by Cello Dreaming and on behalf of Louise King. The booked place in the class is considered sold and subject to the following conditions:
The booked place cannot be exchanged with another applicant, returned and refunded after purchase.
The right is reserved to add, withdraw or substitute presenters, artists, vary ticket prices, and/or vary advertised programs, seating arrangements and class capacity.
The presenter, performer Cello Dreaming reserves the right of admission to the class.
If the class has to be cancelled due to natural disaster, adverse weather conditions or for any other cause reasonably beyond the presenter's control, there is no right of refund or exchange, and no obligation is assumed by the presenter for the arranging of a substitute event.