Are you a TOTAL BEGINNER?
Read this checklist for the ADULT TOTAL BEGINNER CLASS!
If you match, then this is the class for you!
> I have no previous music lesson experience
> I have never really played an instrument before
> I do not know if I can sing 'in tune' or if I have a 'musical ear'
> I can't read music but interested in giving it a go
> I am looking for a sequential group lesson class that is simple to do, easy to understand, includes clear explanations and teacher demonstrations and guidelines
> I have had a go at learning once before but I gave up early on and am now looking for an easy way to review how to play and get back into it
> Minimum home practice suggested 10-15 mins x 3 times a week – simply repeat the class activities at home
> I want basic lesson resources to take home
about
Designed with the TOTAL BEGINNER music student in mind, this class is simple, sequential in skills and is delivered in a clear and engaging way. No music lesson experience required. Each class contains simple exercises to build coordination, confidence, musicianship, ear training and music theory. One short instructive piece is worked on as a group with teacher demonstrations and at the end of class, this piece will be played by the group with piano accompaniment. Nobody plays on their own. Class activities are done all together in a supportive and encouraging environment. The emphasis is on building musicianship skills integrated with learning to play the cello.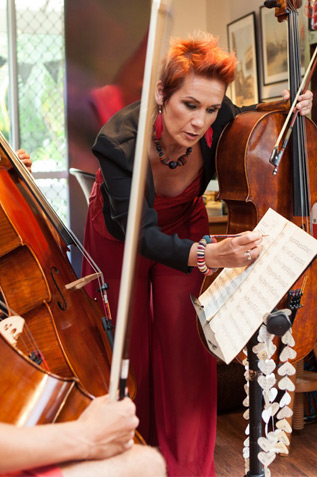 benefits
Under the expert guidance of professional musician Louise King, the participants will learn in a group. This series of classes is designed to provide adult students to try playing the cello step by step.  It is an opportunity to try something new in a supportive group environment and meet people with similar interests.
requirements
Cello Dreaming recommends that participants have their own or rented cello to be attending the class.  It is highly recommended that you attend all classes to enjoy the sequenced development and to develop teamwork and confidence.
approach to teaching adults
Louise King has been a music educator and worked with adult students for 20 years. Listen below to her talk to ABC Sunshine Coast radio about teaching cello to adult students.
CONDITIONS
A place in the class is issued by Cello Dreaming and on behalf of Louise King. The booked place in the class is considered sold and subject to the following conditions:
The booked place cannot be exchanged with another applicant, returned and refunded after purchase.
The right is reserved to add, withdraw or substitute presenters, artists, vary ticket prices, and/or vary advertised programs, seating arrangements and class capacity.
The presenter, performer Cello Dreaming reserves the right of admission to the class.
If the class has to be cancelled due to natural disaster, adverse weather conditions or for any other cause reasonably beyond the presenter's control, there is no right of refund or exchange, and no obligation is assumed by the presenter for the arranging of a substitute event.

2018 Monthly Classes
Option 1 – Morning Class
TIME 11am-12pm
Option 2 – Evening Class
TIME 6-7pm
DATES – Monthly program
Thursday 8 February

Thursday 8 March

Thursday 19 April

Thursday 10 May

Thursday 7 June

Thursday 19 July

Thursday 9 August

Thursday 13 September

Thursday 11 October

Thursday 8 November

Thursday 6 December

COMMUNITY PERFORMANCE OPPORTUNITIES!
Take part in these public student concerts – more exciting opportunities to be announced!
Sunday 18 March | 2pm | Guest act CELTIC CONCERT EUDLO HALL
Thursday 21 June | 7pm | Musicians Without Borders Fundraising Concert
Sunday 23 September | 2pm | Playing For Change Foundation, Global Day of Action Performance
Saturday 15 December | 7pm | Guest act CHRISTMAS CAROLS CONCERT, EUDLO HALL
VENUE Eudlo Hall, Rosebed Street, Eudlo, Sunshine Coast
COST $35 per person per class | $175 for 5 classes | $385 for 11 classes
EARLY BIRD DEAL Book & pay online before Monday 5th February 2018 to be eligible for early bird deal.
$350 for 11 x monthly classes. Get 1 x class FREE + 1 x 30 minutes individual lesson FREE
$175 for 5 x monthly classes. Get 1 x class FREE + 1 x 30 minutes individual lesson FREE
BOOK ONLINE This class can be booked and paid for in our online shop.
DETAILS Music is provided. A minimum of 4 students per class is needed to ensure the adult beginner class program runs. Coffee, tea, light refreshments, student resources, music worksheets and HEAPS of encouragement included.
WHAT TO BRING cello, bow, rosin, music stand, endpin stopper, pencil and eraser, imagination, courage.
NEED TO RENT A CELLO? Please contact www.simplyforstrings.com.au for competitive monthly rental packages. Find out about rentals and how to buy a cello on this page of our website.
WHAT MUSIC? Music to suit all tastes and suitable for complete beginners.. Play music with others, experience playing in a group with both piano and cello accompaniment and enjoy learning well known classical, folk and modern music carefully selected and arranged to suit Adult Learners in a fun, mixed level, group class experience.
MORE INFO info@cellodreaming.com.au | 0415 128 799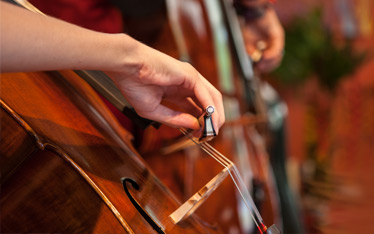 what people are saying
'You are a rare find, both an excellent performer and inspiring teacher.  Your classes are SO rewarding, and carefully prepared. You instinctively understand and work with all the varying personalities, abilities and goals of your students.  Your practical suggestions and confidence convince us that we can all express the music within, with some remarkable results.'
Margaret Moss
'Louise has helped me reawaken my connection with music.  Her intuitive style of teaching helped me find the courage to pick up my cello again.  She not only loosened my rusty fingers but also gave me the confidence to be able to play in front of people.  Louise is very understanding to the complexities of learning an instrument as an adult and she has great ways and ideas to keep students on track and self-motivated.'
Lia Titman
'Louise's contagious, joyous passion for music and her cello is completely inspiring.  Her classes are just about the best thing I have ever done in my life. The opportunity to play with peers and realise that I'm not alone in my dreams to master the cello has given me great confidence.'
Annette Hughes