Tulipwood harpullia pendula is an Australian rainforest tree typically found from Bellingen NSW to tropical Queensland.  Small, attractive and found in surprising places, this tree is much like its musical namesake.
"Tulipwood as a musical group is close to my heart.  It has gone through several transformations in the eight years since its first performance project in 2005 but Tulipwood's musical roots and concept has not changed."
To play great music with Australia's finest string players.
To explore the rich tradition of the classical string quartet giants, spice it up with postmodern music and perform great covers.
 Perform, record and collaborate with singer-songwriters.
Create performances that break down traditional classical barriers and introduce new audiences to the beauty, diversity and rich kaleidoscope of music for strings.
TULIPWOOD QUARTET PERFORMERS
Benjamin Greaves – Violin
Eugenie Costello – Violin
Belinda Williams – Viola
Louise King – Cello
Guest artists for recordings, performance and educational are:
Rachel Smith – Violin, Kathryn Taylor – Violin, Sarah King – Violin, Myee Clohessy – Violin,
Bec Seymour – Violin, Raquel Bastos – Viola
WATCH
PERFORMANCE HISTORY
Eumundi Community Fundraiser with Katie Noonan & Elixir, Tulipwood Quartet, Cello Dreaming Ensemble & Andrew Veivers on flamenco guitar 2013 & 2012
USQ Artworks Annual Concert Series Toowoomba 2013
Old Museum Brisbane Katie Noonan Songbook Tour 2013
Bangalow Festival NSW with Katie Noonan Songbook Tour 2012
Love Song Circus with Katie Noonan & CIRCA – Adelaide Cabaret Festival 2012
Elixir 'First Seed Ripening' Tour 2012 Mullumbimby, Brisbane, Toowoomba
Elixir featuring Katie Noonan with Tulipwood Quartet Crossbows Festival Queensland Conservatorium of Music Brisbane 2012
Elixir featuring Katie Noonan with Tulipwood Quartet Woodford Folk Festival 2012
International Playing For Change Day Gala Concert Caloundra Fringe Festival 2012
Vince Jones & Katie Noonan with Tulipwood Quartet Queensland Music Festival 2007 Brisbane Powerhouse
Katie Noonan with Tulipwood Quartet | Josh Groban International Tour QPAC Brisbane 2007
Tulipwood Quartet Strings at Sunset Flamehill Winery Montville Sunshine Coast 2006
Chamber Music Queensland Concert Series Brisbane 4mbs studio
Tulipwood Quartet Sound Architecture Australian Music for String Quartet Cooroy Sunshine Coast 2005
Listen
Paul Stanhope –
Dancing with Strangers no. 2 – extract
Peter Sculthorpe –
Irkanda IV for string quartet – extract
Ross Edwards –
Ecstatic Dance no.2 – extract
BOOK TULIPWOOD
Thinking of engaging Tulipwood?  Louise King is happy to consult with interested venues, event organizers, school performing art departments and established concert series to create a performance program suitable for your series, school, community event, function or festival.  Tulipwood musicians are all experienced performers and enjoy engaging with audiences.  Short, informative introductions about the music by the performers ensure a warm and convivial connection with the audience at events.
about tulipwood quartet
Tulipwood stellar musicians perform for major art and music festivals and regularly appear at music industry conferences and forums.
Tulipwood musicians have studied and worked internationally extensively.  Since meeting, they have discovered a similar passion for chamber music and what began as fun and indulgence to play string quartet literature with friends has become a serious pursuit to bring the great masterworks to new audiences.
Tulipwood is a regular guest string quartet for Katie Noonan.  They are regularly invited to record on emerging and established singer-songwriter's albums.  Tulipwood's musicians are experienced and passionate educators and regularly give consultation lessons, adjudication and workshops.
Tulipwood performances offer a cutting-edge artistry and resonate with a love of classical music.  They share a great commitment and respect for classical music and enjoy creating their own individual interpretation of new and familiar works.
Tulipwood specializes in performing Australian music alongside the towering giants of Mozart, Beethoven, Haydn and Schubert spiced with subtle and fresh modern covers.
Their collaborative performing experience includes Sydney Symphony Orchestra, Australian Chamber Orchestra, Hong Kong Philharmonic, Collusion Music and the Queensland Symphony Orchestra.
EXAMPLES OF TULIPWOOD QUARTET CONCERT PROGRAMS
POSTCARDS – World Travels
Haydn – String Quartet in D minor 'fifths' II Andante, o piu tosto Allegretto
Ravel – String Quartet in F ii Assez vif_Très rythme
Ginastera – String Quartet No 1 I Allegro violento ed agitato
Tchaikovsky – String Quartet No 1 in D ii Andante cantabile
Paul Stanhope – Dancing with Strangers
Britten – String Quartet No 3 IV Burlesque Fast – con fuoco
Etta James – At Last arranged for String Quartet
 SOUND ARCHITECTURE – Australian Music for Strings
Ross Edwards – Ecsatic Dance no.2 for string quartet
Betty Beath – Encounters 3,4,5 for vln & cello
Michael Knopf – 3…ianas for solo cello
Elena Kats-Chernin  – Charleston Noir for string quartet
Leah Barclay – Breathing Spaces for vln & cello
Peter Sculthorpe – Irkanda IV for string quartet
Paul Stanhope – Dancing with Strangers no.2 for string quartet

ROMANCE – Strings at Sunset
Haydn – String Quartet in D minor op. 42
Suk – Barkarola in D minor & Balada for string quartet
Borodin – String Quartet 2 in D major
UPCOMING PEFORMANCE
Tulipwood Postcards
11-13 April 2014
Brisbane – Sunshine Coast – Gold Coast
GO TO EVENTS PAGE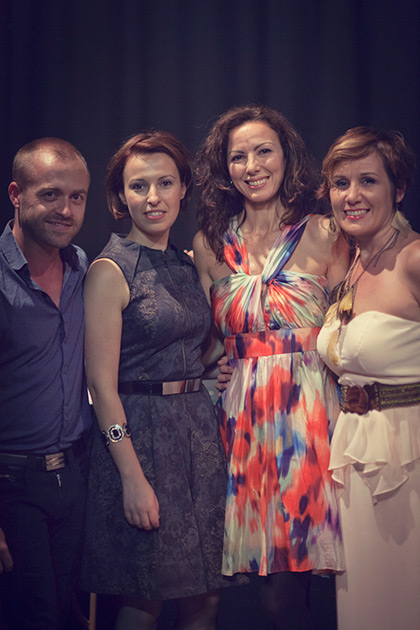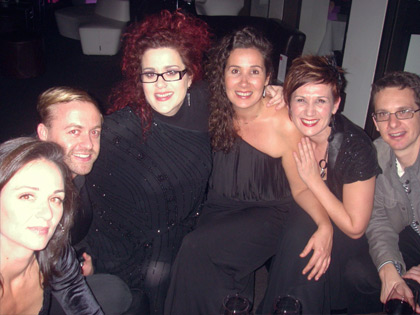 REVIEWS
…The Tulipwood Quartet's chillingly beautiful repertoire included Ross Edwards' nature-inspired Ecstatic Dance Two through to Terry Riley's boppy Sunrise of the Planetary Dream Collector, which mesmerized the audience.
Northern Star 2011
Deep-rooted in the great classics for string quartet, Tulipwood exposes audiences to fresh Australian soundscapes. You are left inspired by a folksy groove, spiced with singer-songwriter covers we all know and love.
Audience member USQ Toowoomba
Expect to be up close and personal with these exceptionally seasoned, spirited and gifted musicians.
Crossbows Festival 2012 Brisbane
The Tulipwood String Quartet accompanied the jazz trio (Elixir & Katie Noonan); their performance was refined and overall added a superb depth and resonance to the concert.
Australian Stage 11/09/2011
LOVE SONG CIRCUS – Adelaide Festival 2012
Noonan's voice was superbly suited to this type of performance, and the rich musical accompaniment from Zoe and Benjamin Hauptmann, together with the Tulipwood String Quartet, created a real sense of occasion and atmosphere throughout the theatre.
Impossibly beautiful, this show is a gift to our contemporary Australian culture.
Pure and tragic, brutal and transcending!
Kate Ceberano, Artistic Director Adelaide Cabaret Festival
Accompanied by the Tulipwood String Quartet, bassist Zoe Hauptmann and guitarist-banjo player Benjamin Hauptmann, with arrangements by Steve Newcomb, Noonan's songs give life to the courage and stoicism of young women otherwise lost as mere mentions in prison records and colonial archives.  This is an accessible, highly accomplished new composition that deserves wide attention.
The Australian
Tulipwood Chamber Orchestra
example concert program
London to Venice Return
Elgar – Serenade for strings in E minor
Vivaldi – Concerto for four violins in B minor
Finzi – Romance for strings
Corelli – Concerto Grosso in D major for strings
Vivaldi's famous Concerto in B minor for Four Violins, Corelli's glorious D major Concerto Grosso, Elgar's Serenade for Strings, and Finzi's unfamiliar jewel in the crown, Romance, will transport you between the two great musical melting pots that are London and Venice.
ABOUT TULIPWOOD CHAMBER ORCHESTRA
Tulipwood String Quartet can expand its ranks on special occasions and performs with invited string colleagues from Australia's finest orchestras, ensembles and chamber music groups.
A player's initiative, Tulipwood Chamber Orchestra presents un-conducted, uplifting, intimate performances with educational workshops in South East Queensland.  Expect to be up close and personal with these exceptionally seasoned musicians.
Tulipwood Chamber Orchestra promises and delivers musical refinement, staggering technique and trail-blazing effects.
Performance History
Thomas Dixon Centre Brisbane 2012
The Butter Factory Arts Centre Sunshine Coast 2012
Bangalow Music Festival Chamber Orchestra 2012