Cello Dreaming has a progressive range of expert ideas and actions that will turn a bright talent or a long held dream into a successful, happy and more importantly self-motivated musician.

Suggestions are easy to implement, fast proven and more importantly bring out your individual musicality.
why learn with cello dreaming?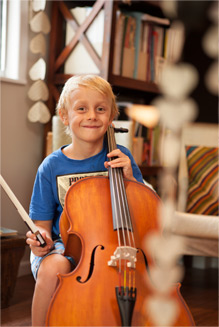 Support every step of the way – learning an instrument is a fun and rewarding experience. I make it all the more valuable and beneficial by supporting and encouraging you with every achievement using simple rewards, powerful practice tips, inspirational resources and expert advice.
Lesson Recording – record or video your lesson using i-phone or i-pad, record helpful tips and teacher demonstrations so you know what your new pieces are supposed to sound like. Listen back and review your lesson in great detail.
Advice in buying, maintaining and upsizing your instrument – I can advise you on how best to set up, tune and look after your cello and can suggest luthiers, instrument makers, music shops and specialist string retailers.
Help me practice! – Practice can be fun, I show you how. I help structure a practice schedule and select pieces carefully for your learning.
E-mail updates – you can opt in to receive regular news about events and educational projects, camps and courses that might be of interest to you.
Free Concert, Cultural Event and Educational flyers – get connected and get inspired – info on concerts that might interest you and workshops that might help you on your learning path.
Community Cello Concerts – you can play in my regular student concerts at the Eudlo Hall and in other community events and enjoy rehearsing and playing in a cello ensemble.
Student performances – you can work towards an Eisteddfod or informal performance or busking and if you are really keen – take exams.
Cello Dreaming Youth & Adult Cello Ensemble program – meet other students learning the cello and experience playing multi-level music for cello ensemble.
Adult Beginner Class program – monthly morning and evening classes designed for optimum motivation for adult students in a supportive group environment.
Free Student Handbook – jam-packed full of all the information you will ever need – where to buy music from, what music to buy, what string's to buy, suppliers, learning resources, and advice on practice aids and books.
Ages: 4-adult.  All ages, all levels welcome.
Specializations:  Aspiring young musicians and adult students, Historical Informed Performance Practice on baroque and classical cello, chamber music, Australian music, new music, alternative music, world music and improvisation, advice for singer-song writers on writing charts for strings, powerful advice for students with tension related issues such as RSI, carpel tunnel, tennis elbow inhibiting their playing.
Student experience: suitable for beginner to diploma or professional level and ideal for string teachers seeking Professional Development.
Flexible scheduling:  Lessons can be weekly, fortnightly, monthly or on casual consultation or during school holidays. I work on 9-10 lessons a school term.  Teaching Studio open 10am-2:30pm, 3:30-8pm MON, TUES, WED, THURS, SAT 9am-2pm.
Lesson length: 30/45/60mins – I suggest 30mins weekly for beginners, 45mins for intermediate level and 60mins for advanced students. Adults usually need an hour at whatever stage (they always ask more questions!).
Syllabi: Australian Music Education Board, Guildhall, Trinity Board, and Associated Board Royal Schools of Music.
Building a learning program suited to you:  A holistic, healthy musical and technical balance using a blend of ideas from Dalcroze, Kodaly, Suzuki, Nelson, Colourstrings teaching philosophies and learning systems mixed with the world's leading cello pedagogues methods.
Teacher Qualifications: Multi competition and award winning graduate of Royal Northern College of Music Manchester and Royal College of Music, London – Bmus hons RNCM, member of Australian String Teachers Association and the Music Teachers Association of Queensland, holds valid working with children Blue Card.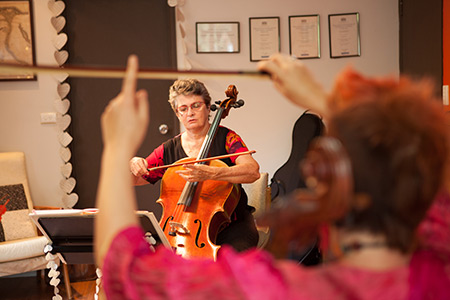 little cello dreaming extras
Student rewards – stickers, a lucky dip box, achievement certificates.
Student Progress Reports
Scholarship & Reference Letters
Themed Lessons or Term Projects – projects exploring a range of music such as baroque, classical, romantic, contemporary, jazz, blues, improvisation, technique, folk music, Celtic music, Australian music and composer anniversaries.
Concert Trips – optional trips to Brisbane to see events presented by Musica Viva, Australian Chamber Orchestra, The Australian String Quartet, QSO.
Free Interview & Consultation
Book in with Louise now on 0415 128 799 and bring your cello, music books an your questions and if you play already, prepare a piece.  Louise will conduct some listening tests, sight-reading and discuss your program.
Rates & Scheduling
Check out the range of lessons packages in the ONLINE SHOP and take advantage of great online deals!  Lessons can be weekly, fortnightly, monthly or on a casual basis.  Rates are based on thirty years teaching experience.  An invoice for the terms lessons is sent via email upon enrollment.  Payment can be cash per lesson or transfer.  Term or monthly payment plans are available on request.
$50 30 mins
$75 45 mins
$100  60 mins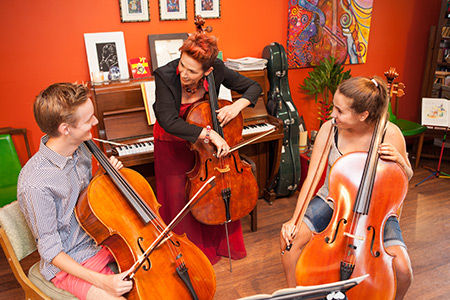 Your Cello
To purchase an instrument, accessories or music start by looking at these websites of specialist string shops, Brisbane.  If buying a cello – expect to pay $1000-$6000 for a complete package.  Ask about hire to buy specials or second hand instruments.
Animato – www.animato.com.au
Simply For Strings www.simplyforstrings.com.au
Simmers violin shop – www.simmersviolinshop.com.au
Music
Because we are all learn differently and enjoy playing different styles of music, are at different ages and are at different levels, it is best to book in for a consultation lesson come and check out an extensive range of books I Cello Dreaming recommends for beginner through to advanced level students.
teacher's studio details
3 locations
> SUNSHINE COAST Studio 7 Corlis Avenue EUDLO
> NOOSA Peregian Community House 5-7 Rufous Street PEREGIAN
> BRISBANE Ithaca Hall RED HILL
Private Cello Tuition
Lessons are available on a weekly, fortnightly, monthly or casual consultation basis of 30 minutes / 45 minutes / 1 or 2 hour bookings for long distance and advanced students. Music theory and general knowledge is taught as an integral part of the syllabus and learning program.
 Individual – ideal for the student wanting great attention to detail and personal development – fast-paced and informative.
Parent and child – a great way to enjoy the fun and learn something new with your child – works as a great practice motivator at home.
Group cello lessons (2-6 students) – beginner level up to third year of learning only, taking lessons with friends is fun and motivational.  You can even organise practice sessions at home together.  This is a great way to start your cello journey and then progress into individual lessons.  Don't know any one who wants to learn in a group?  Contact me and I can match you with a student of similar age, background and level.
Holiday Intensives – focused, intensive individual 1 hour lessons; Technique Busters, Scale Magic and/or Music Crammers.  Great for busy school-age students preparing for an exam or Eisteddfod performance.
Consultation lessons
Preparing for an important audition, exam, Eisteddfod, competition or performance?  Get a professional performers viewpoint on your playing and pointers on how to bring the best out of your performance.  Stagecraft, dealing with nerves and playing by memory are topics covered.
Chamber Music Coaching, School Ensemble Coaching
Lesson of minimum 1 hour duration suggested for string quartets, piano trios, duos or mixed ensemble.  Ideal for established groups working towards competitions, Eisteddfods or recitals or for groups who would like to get great tips on rehearsal strategies and ideas on furthering their repertoire.  Performance stagecraft, interpretation and historical general knowledge are just some of the concepts covered.