I will let you in on my little secret wish.

At weddings, I want couples to fall in love not just with each other all over again but secretly with classical music. I know, I know – I am such a classical music nerd.

But stay with me, I am going to tell you why.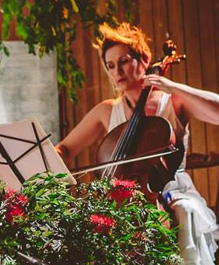 You see, classical music gets a bad rap. I am not surprised really after being to so many concerts over the years that are somehow stuffy and not exciting to listen to or watch. But trust me! Classical music at your wedding does not have to be like that. You see instrumentalists are surprisingly versatile and can perform a playlist from Bach to grass roots folk to blues to U2, so really repertoire choices can cover all music styles with just one classically trained musician.
Remember, a wedding is not about the 'musician', it's about YOU – a couple coming together to celebrate your relationship, to start a new chapter in your life together and music – particularly classical music – can really underpin that incredible moment oh so beautifully if you are daring enough to let it.
That's my point; you can use carefully crafted music as a way to bring your guests, family and loved ones together.
Think about it. Live music is a way to:
1 Encourage your bridal party to walk down the aisle with confidence, swagger and style
2 To stir loving emotion in your guests (tissues anyone? – I cry at every wedding!)
3 To announce your splendid arrival (what an entrance! – stunning!)
4 To help create that spine-tingly moment as you look into each other's eyes (oh yes, that's what this is all about – you!)
5 To feel nostalgic as your father walks you down the aisle to your betrothed (oh Dad – is that you getting all emotional?)
6 To hearing your special love song you both adore for your signing while you have photos (oh listen – it's our song- it's sounds so romantic!)
7 And finally that celebratory moment you are announced as husband and wife and your new life together begins (ta – da – walk the red carpet moment!)
Now THAT is the kind of wedding ceremony music I like to create with couples.
So before I hit you with my top suggestions on music for your wedding, think on these questions.
1 What are your significant music memories in your life so far?
2 Is there a song you first danced to or something you love listening to as you relax and unwind together?
3 Is there a memorable performance of an artist, band, opera or a music theatre show or movie soundtrack from a special date night?
4 If you have different music tastes, what bands or artists do you like and why?
5 Is there a song or aria or piece of instrumental music that stirs your emotions and makes you feel loved-up or romantic?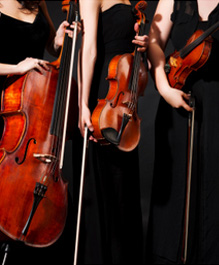 Have courage – you both don't have to pick the same songs! Your wedding is about you and celebrating all that has brought you to this point. So choose music that is significant to you as individuals and as a couple. You might have day-dreamed about this day for a long time and so make it memorable by reflecting on how you want to feel as you hear the music being played. Remember playing rock ballads or alternative covers on classic strings can also be gorgeous and can sound elegant with a modern twist.
Just remember when you are comparing notes, what you like to drive to work to or listen to at the gym or cook pasta to is not always suitable for your public celebration of love! Focus on creating a personal and meaningful playlist that represents you both and your story so far. Everyone has a soundtrack to his or her life. Your wedding day can be a way to celebrate that through music.
A wedding ceremony is usually ran in these segments.
PRE CEREMONY MUSIC
This is when your guests and family and VIPs are gathering expectantly and are totally excited to be there. This section of the wedding ceremony can be classical and elegant wedding faves or a mix with folk, vintage jazz or modern covers. Musicians entertain your guests and create an ambience until the bride arrives.
PROCESSIONAL
This is the music that announces the bridal party and accompanies your walk down the aisle. You can pick music for your bridesmaids to walk down the aisle too and musicians then segue into the bride's entrance music.
SIGNING
The time the celebrant will ask you to sign the official document with your witnesses and when your photographer will want to capture some gorgeous shots. This is a great time to pick two contrasting songs or pieces to entertain your guests while they watch and wait.
RECESSIONAL
The grand announcement of husband and wife and when you get to finally walk back down the aisle husband and wife and meet and greet your guests and gathered family. Musicians will play something to accompany your exit and then segue into background music to entertain your guests and perhaps change the vibe to cocktail music or modern covers if this is your preference.
TOP CLASSICAL TRADITIONAL PICKS FOR PROCESSIONAL & RECESSIONAL
1 Bach – Prelude in G major – solo cello
2 Pachelbel – Canon in D major – violin & cello duo version  and a solo cello mashed up Irish version
3 Clarke – Trumpet Voluntary – string quartet version
4 Charpentier – Te Deum – string quartet version
5 Trombetta
6 Handel – Hornpipe from Water Music – string quartet version
7 Jesu Joy of Man's Desiring – Bach – string quartet version
8 Vivaldi – Spring from The Four Seasons
9 Handel – Arrival of Queen of Sheba
10 Handel – La Rejoussance
TOP 10 CLASSICAL SIGNING PIECES
1 Thais – Meditation
2 Bach – Air on a G string
3 Schubert – Ave Maria
4 Saint-Saens – The Swan
5 Handel – Largo from Xerxes
6 Piazzolla – Oblivion
7 Morricone – Gabriel's Oboe – The Mission
8 Frank – Panis Angelicus
9 Shostakovich – Romance from the Gadfly
10 Clair de lune – Debussy
TOP 10 MODERN COVER SIGNING SONGS
1 Hallelujah – Leonard Cohen – string quartet version
2 Somewhere Only We Know – Keane –cello & bass cover
3 Moonriver – Mancini – violin + guitar version
4 I'm Yours – Mraz – string quartet version
5 Fix You – Coldplay – String Trio version
6 Just The Way You Are – Bruno Mars – piano & cello version
7 Shape of My Heart – String cello duet version
9 Someone Like You – Adele – cello + piano version