Choosing music for students is a broad and diverse topic. Whichever instrument we teach, whatever approach we employ, wherever we teach, whomever we teach, we are above all, teachers of musi
c.
Sometimes, it is too easy to get bogged down in the complexities of teaching posture, technique or learning repertoire for specific ends such as exams, Eisteddfods, school events, competitions and we can forget to take a longer, wider view. Because of the need to demonstrate 'successful' music programs within our schools and community, we feel pressure to create results, quickly. The expectation to publicly 'show' our students as an example of our work means we often rush students into 'performing' and 'assessment' because we have not created other platforms to show accomplishment.
Teaching the love of music, the gift of accomplishment, and the gift of critical thinking and to encourage curiosity about the creative arts are enabling students to assimilate the wider world. What I love about teaching is the creative process, not the result. To base any form of music education exclusively on 'performance' is unwise. Students no matter their age, level or geographical location, should have access to a range of musical possibilities and pathways to develop what I refer to as artistic 'habits of mind'.
As instrumental teachers, we have a unique opportunity to incorporate many approaches to develop student's musicianship and personal qualities side by side. Choosing repertoire for me starts with encouraging students to think like a;
Composer
Performer
Audience
Critic
It boils down to this essential line of inquiry. WHAT WHEN WHY WHO HOW?  What do I want to teach? When should I teach it? Why do I want to teach it? Who do I want to it teach too? How will I teach it?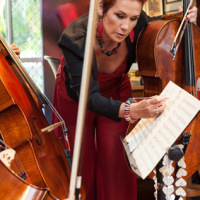 PLAN MUSIC AROUND YOUR YEAR
Currently my teaching year is divided into four terms over two semesters. In any year, I teach individual and group lessons, classes for youth and adult learners, small ensembles and chamber music groups. I also conduct, coach and tutor orchestral programs. The more we can draw on a myriad of influences outside our sessions, the more meaningful our music making in a session can become.
I organise activities around composer anniversaries that correlate with my term theme. I plan events and repertoire selection to coincide with annual events such as Harmony Day, St. Patrick's Day, International Women's Day and depending on the beliefs of the student, Lunar New Year, Easter, Halloween, or Christmas. Here's an overview of my projects for 2018:
Term 1 – Technique Boot Camp, Female Composers, and Celtic Music
Term 2 – Baroque Music
Term 3 – Romantic Era
Term 4 – Living Composers, Australian Music, Alternative Styles, Halloween, Christmas
EXAMPLE OF TERM PLAN
THEME
KEY LEARNING AREAS
EVENTS
REPERTIORE EXAMPLES
Cello Gym
– Scales, arpeggios, chromatics- Exercises & Studies- Specific targets i.e. development of bow division, slurring, vibrato, comfort in fourth position, flexibility in extension hand-shape
Technique Boot Camp
Technical workbook AMEBVarious Method BooksFeuillard Method, Studies, ExercisesRick Mooney Position DuetsVarious Studies Legg, Cohen, Piatti, Lee, Dotzauer, Popper, Duport
Female Composers
– Explore works by female composers from the past and present- Statistics on gender parity (context)– Open discussion on women in music
International Women's Day Queensland Women's Week
Rebecca Clarke – I'll Bid My Heart Be StillNadia Boulanger – 3 PiecesSarah Hopkins – Reclaiming The SpiritDulcie Holland – Summer's EndLiz Maxfield – Cello SuiteIlse de Ziah – College GrovesLoreta Fin – Celtic MeditationSheila Nelson – Reel
Celtic Music
– Learn one folk 'tune' by ear
– Learn scale or mode of 'tune'- Learn 3-6 'tunes' using notation with piano in duet form or in multi-level group- Explore improvisation in ABA- Compose a Jig or Reel- Learn stylistic techniques i.e. 'chopping', 'grace notes'
Celtic Tunes Workshop & Concert  St. Patrick's Day
Trad. Tunes i.e. Skye Boat Song, Road To LisdoonvarnaSheila Nelson Bonnie Dundee Variations / Irish ReelColledge The CeilidhLoreta Fin Celtic Meditation Bruce Lawrence Variations on GreensleevesRV Williams Fantasia on GreensleevesMary Cohen Irish ColleenLondonderry Air various arr.
Percy Grainger Molly On The ShoreMark O'Connor Appalachia WaltzFrank Bridge An Irish Melody
DIVERSITY & INCLUSION
Because my teaching practice caters for such a wide variety of levels (beginner to advanced) and a large span of human development (age three to eighty!), I create a curriculum that is immediately accessible, diverse in approach, sequential in technique, draws on many musical cultures and covers the 'four habits of mind' to develop quality music-making. In any year, I will have a percentage of students who are beginners on open strings and developing first position so I arrange, write or select music within the term theme to teach notation, rhythm and instrumental techniques for solo and ensemble repertoire.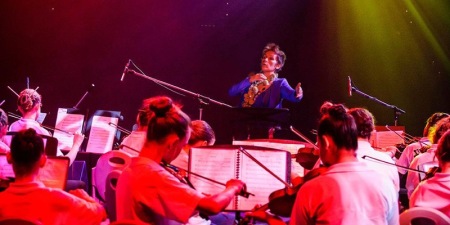 KNOW YOUR PURPOSE
Planning starts with knowing your purpose.
If you had five minutes with a group of students what would you want to know about your art form?
If you had one hour with students, what would you want them to know?
If you had five hours consecutive or weekly engagement what would you want them to know?
If you had twenty-five hours in total – what would you want them to know?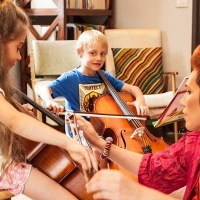 INDIVIDUAL LESSON GUIDELINES
How much time do you want students to dedicate to practicing a certain technique or piece?
How much time do you want students to apply a learnt technique into making original work?
How much time do you want to spend on general conceptual knowledge and how much on specific technical knowledge?
Are you trying to teach too much or too narrowly to allow students to develop a practice process that excites them?
How will you stay out of the way as students learn a skill?
How will you know if a skill is learnt?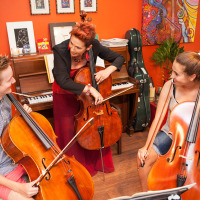 CONCURRENT LEVELS
There are sequences of repertoire that can be presented to students to facilitate musical and technical growth. My students prepare pieces at three levels concurrently. The first is below the student's level to keep confidence level high (love of music). The second is at the student's level, where learning a new piece allows the student to feel good (gift of accomplishment). The third is above the student's level, in order to keep the student challenged and aspiring (gift of curiosity).
FURTHER READING
https://bulletproofmusician.com/what-changes-when-a-student-selects-their-own-repertoire-a-case-study/
https://www.thestrad.com/how-do-you-choose-instrumental-repertoire-for-a-student/2866.article