"…Great fun! I loved it!"

"Heaps of great music, helpful tips – a really inspiring workshop."

"I have improved my sight-reading, ensemble skills, sense of musicianship, technique and posture, made new cello friends and been introduced to a world of great music for cello ensemble."

'Really fun playing in a cello ensemble!"

"I made awesome new friends and loved playing in a group!"

Cello Ensemble Workshop Participants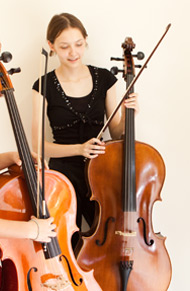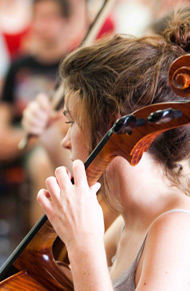 Louise King conducts a variety of workshops throughout the year. Regional and school workshops can be organised and Louise will travel to your community or school. Are you a school music teacher looking for someone inspirational and dynamic to work with your students and ensembles? Do you want to boost the creativity and enjoyment o music making in your community? Louise is a highly experienced educator and conductor who leads students and musicians through a range of practical performance and composition projects. Can't find what you are looking for? Louise can work with you to develop a workshop at your school or community that will enhance your music program and unlock musical potential.
Workshops are based around concepts such as listening, leading, breathing, blending and style. Each workshop can culminate in an informal performance for family and friends. The workshops are designed to unify and bring together musicians in an inspiring, motivating performance experience.
The following workshops are available to be booked. Contact Louise King to find out more information and for costs of workshops described.
workshops available
YOUTH WORKSHOP 1
Ready Set Go!
TIME 1 to 2 hours duration
WHAT Junior Cellists Year 2 – Year 6
LEVEL Prelim level – Grade 3 AMEB or book 1-3 Suzuki
YOUTH WORKSHOP 2
Grooves & Moves
TIME 1 to 2 hours duration
WHAT Senior Cellists Year 7-12
LEVEL Grade 4 AMEB – Advanced Player
YOUTH MASTERCLASS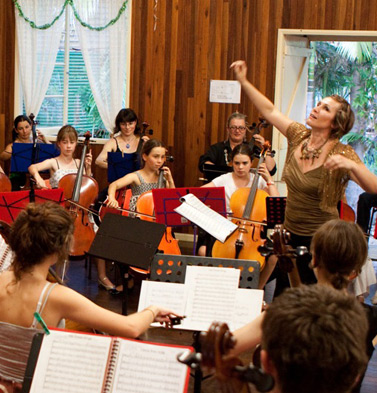 TIME 1 to 3 hours duration
WHAT Senior Cellists Year 7-12 – Aspiring Young Emerging Professionals
LEVEL Grade 4 AMEB – Advanced Player
ABOUT A masterclass is a unique opportunity to get up close with a 'Cello Master' (someone who has spent a long time and thousands of hours learning and teaching it!). A masterclass can be presented at various venues throughout Australia – schools, community venues, and private teaching studios for example.  It offers the opportunity for a limited number of students to participate on stage in a performance focused learning experience. It is possible to attend a masterclass as an audience member, which is still a valuable learning asset to further your cello awareness and skills.
SCALE BLITZ WORKSHOP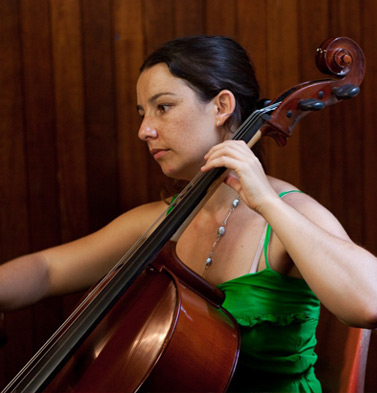 TIME 1-2 hours duration
Louise King …"could make an egg boiling contest musically entertaining!  If you get the chance to go to one of her workshops – GO!"

Youth Participant, String Workshop, Coff's Harbour
ABOUT Do you hate playing scales? Do you wonder why teachers make you play them? Get to technical grips with the AMEB Technical Workbook in this fun, interactive and inspiring workshop. Improve your intonation by learning about listening and left hand flexibility. Have fun creating short easy improvisations in the scale patterns you are learning. Increase your music theory knowledge by understanding how your scale and arpeggio patterns are put together. Perform and polish your technical exercises in an open and engaging learning environment. Louise King will lead student cellists through an intensive and fun educational experience. Discover that you too can enjoy playing scales! Observers and teachers are welcome to attend.
ADULT CELLO ENSEMBLE WORKSHOP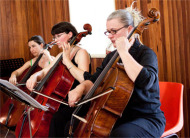 TIME 1 to 2 hours duration
WHAT Adult Cello Players
LEVEL Grade 3-8 AMEB or Suzuki book 3 – advanced level
ABOUT Adult Cellists can come to a workshop to have the opportunity to play music with others, develop playing under guidance and enjoy sharing their love of music and the cello. The workshop is designed to bring together adult cellists in an inspiring, mentoring and fun informal chamber music performance experience.
The music is arranged in several ability levels from grades 3-8 and is carefully selected to create a musical challenge for every player. You will play great well-known classical music, modern songs and folk music and have a go at group improvisation. Sessions will encompass a wide level of musical tasks in a mixed level class. A short social refreshment break allows members to meet new people with a similar passion for music and the cello.
For more information about the Adule Cello Ensemble Workshop please visit this page
---
about the workshops
COST $40 per workshop | $10 visiting observer
BOOK Book Online on booking form below
MORE INFO Call 0415 128 799
ALL WORKSHOPS include scrummy morning or afternoon tea
Do you play the cello? Do you play in school string ensemble and feel the violins always get the tune? Come to a workshop!  An opportunity for aspiring cellists young and old to meet for an intensive, fun-filled afternoon of melody, harmony, group tuition, technical warm-ups, improvisation, musical guidance and inspirational tips from one of Australia's top professional cellists and teachers.
Workshops will encompass a wide level of tasks in a mixed level and age group working on ensemble skills, musicianship and performance tips. Attending a workshop can unlock your creative juices, hone your technique and develop your musicianship.
Come and enjoy playing music for Cello Ensemble! Celtic Grooves, classical greats and fun dance music such as Tangos, Sambas, Bourrées, Courantes, Pavanes, Jigs and Minuets – all arranged for several ability levels.
Learn side-by-side with fellow cellists and play along with a professional musician.  Participants come and develop their playing and individual performance style.  Workshops are designed to bring together players in an inspiring, mentoring and informal performance experience.
Be inspired to take great musical leaps in a short time in a concentrated and engaging learning environment. Workshops are ideal for all aspiring musicians.  All cello players are welcome.
about the presenter
English cellist, Louise King moved to Australia in 2003 after working extensively in professional orchestras in the UK, Hong Kong, Cairo and Europe.  An award winning graduate of the Royal Colleges of Music in London and Manchester, Louise studied with Emma Ferrand, Leonid Gorokhov and William Bruce and the baroque cello with Richard Boothby.
Louise is in great demand as a soloist, chamber musician, master class presenter, adjudicator and orchestral tutor and performs at Australia's finest music festivals and with Sydney's orchestra seventeen88, the Australian Chamber Orchestra, Topology, The Queensland Orchestra, Southern Cross Soloists, Endeavour Trio, Tulipwood Quartet and as a tutor for the Australian and Queensland Youth Orchestras. Her performing life embraces solo recitals, recording, producing the chamber music concert series dreaming BIG, new Australian works and working with artists such as Katie Noonan, Il Divo, Boccelli, and Josh Groban.   She also enjoys world music and dance collaborations, improvisation and working with singer-songwriters, coaching ensembles and community music workshops.  She is a dedicated and inspiring teacher and particularly enjoys working with aspiring young musicians and adult students.
NEXT UPCOMING WORKSHOP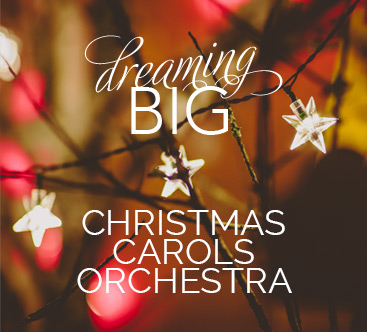 Enjoy a Christmas cracker of a workshop full of traditional carols and musical surprises! Be enchanted by magical sounds of Christmas.  Play and sing fun carols from around the world in a community orchestra and choir guided by professional musician and conductor Louise King. All carol singers and musicians' welcome! Don't miss out!  Book in today!
"Loved singing all these great traditional carols – so Christmassy!"

"Dream come true – to play carols in an orchestra!"
THREE SUNSHINE COAST WORKSHOPS
————————————————————–
Saturday 3 December – COOROY
10:30am-12pm
Butter Factory Arts Centre Maple Street

————————————————————–
Sunday 4 December – DOONAN
2:30-4pm
House With No Steps Fellowship Drive


————————————————————–
Friday 9 December 2016 – EUDLO
5:30-6:30pm
Eudlo Hall

COST  Early bird $20 per musician  – includes multi-level ensemble carol music, song sheets and delicious Christmas refreshments post workshop
Pay At The Door workshop $25
Family workshop (4 family members i/e/ 2 adults 2 children) $80 Group Discount workshop (4 x participants) $80
BOOK Don't miss out! Book before Wednesday 7 December
MORE INFO info@cellodreaming.com.au
0415 128 799
about
Celebrate the spirit of Christmas by playing and singing carols in a community orchestra and choir.  Bring your voice and /or your instrument and meet for a fun-filled workshop of Christmas carols from around the world with musical guidance and inspirational tips from one of Australia's top professional musicians. Join Louise King build community spirit and spread the message of hope through music in community!  All levels and ages welcome.  Any orchestral and concert band instrument welcome.  Carol sheets provided.  Get in the festive mood and wear a festive Christmas hat, decorate your instrument and get caroling!
music
Enjoy singing or playing Christmas carols from around the world in the a community music experience including favourites like:
Jingle Bells
Good King Wenceslas
We Three Kings
Away In A Manger
The First Noel
Deck The Halls
Silent Night
Ding Dong Merrily On High!
benefits
Under the guidance of professional musician and educator Louise King, the participants will perform in a community CAROLS ORCHESTRA. This workshop is designed to provide a performance extension opportunity to motivated musicians in the community.
requirements
Cello Dreaming recommends that participants have completed a minimum of Grade 1 AMEB / Suzuki book 1 to be attending the Workshop. Please complete an online booking for each applicant by Wednesday 7 December. BYO instrument and music stand.
CONDITIONS
A place in the workshop is issued by Cello Dreaming and on behalf of the musician Louise King. The booked place in the workshop is considered sold and subject to the following conditions:
The booked place cannot be exchanged with another applicant, returned and refunded after purchase.
The right is reserved to add, withdraw or substitute presenters, artists, vary ticket prices, and/or vary advertised programs, seating arrangements and audience capacity.
The presenter, performer and Cello Dreaming reserve the right of admission to the workshop.
If the workshop has to be cancelled due to natural disaster, adverse weather conditions or for any other cause reasonably beyond the presenter's control, there is no right of refund or exchange, and no obligation is assumed by the presenter for the arranging of a substitute event.