Professional musician Louise King shares her top tips on booking musicians for your wedding after 25 years in the industry.
Music. It's a big thing for weddings.
There is just SO much of it and many different groups and musicians to choose from.
If you have been to any weddings you will have had your own fair share of 'oh no- not this one' and 'ooohh yes – that was lovely' moments with music. Getting the mix of pieces, songs, what style, whom to book to play it, what instruments – it is an art.
It takes time to dig around and research. Should it be a singer or a string quartet, solo instrumentalist or band? It also costs money unless of course you have guests or family who conveniently happen to be musicians. As a couple planning your wedding, where do you start?
Here are my top tips after twenty–five years of playing at weddings and creating bespoke music packages for couples.
1 What is your budget for live music? Talk to each other about what you can afford and why you think live music is going to enhance your wedding day. Can't afford a string quartet? Book a solo instrumentalist or a duo. Can't afford both live music at the ceremony and then the reception, look into booking a live band for your party and ask the lead singer-guitarist to play solo for your ceremony. Look into supporting young emerging local talent. I will often book my students or recent graduates of music conservatoriums, if the couple can't stretch to professional rates. It's a win-win. Couples get to hear live music and young musicians learn the trade! Remember the old adage is true though; you get what you pay for!
2 Should we book local or out of the area musicians? Start by working out if you want to book local. Local musicians won't charge you mega bucks for travel time. Out of the area travelling musicians will charge unless they already have other gigs in the area at that time. If you have your heart set on a gorgeous group of musicians from the city, ask them their travel fee. Each supplier will differ on how they work this out. I am a big believer in supporting your local music industry so source local for your music where you can! Most musicians recommend others on the scene too, so if you find a quartet for your ceremony, they might know an awesome live band for your reception music.
3 Ask for referrals! If you are super-duper happy with your venue, photographer, celebrant, videographer, florist, caterer, ask them if they recommend any local musicians? Networks of suppliers support each other and enjoy helping you create your DREAM TEAM!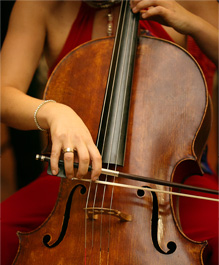 4 Pick up the phone and negotiate! Can't afford the quoted travel costs or pro musician rates? Perhaps offer your musicians little extras instead like meals, drinks, nibbles, accommodation (if travelling from outside your area). Treat them well and musicians will want to go that extra mile and pull off an epic gig for your special day.
5 Ask to see or hear their music! Most musicians will be delighted to organize a consultation so they can meet you and play for you, many may have YouTube channels, most will be on Soundcloud or have an EP or album, some may be showcasing their talents at local gigs or upcoming expos or wedding showcases. Go along and see if it is this style of music that aligns with your vision of your day. On a personal note, the most special thing about playing for weddings, is that the couple will often stay connected and come along to future events or performances down the track. As a musician it is super special when you are booked for a wedding anniversary or a christening by the same couple a few years later! So cute!
6 Let your musician guide you. Your musician has likely played at more weddings than you have ever been to (and has been practicing music for a very long time), so let them guide you with their experience on what works in your situation whether it be a small garden wedding, or a big lavish affair. Musicians have tried and tested music staples in their repertoire and cute modern cover mash ups which will work for their style or group. Musicians are always delighted to suggest their preferred play list as a start and work with you to create something special.
Last thing. Remember, your wedding is not about the 'musician', it's about YOU – a couple coming together to celebrate your relationship, to start a new chapter in your life together and music if chosen with care, can really enhance your special day.