CONDUCTING
Louise is an experienced conductor regularly being invited to wave her musical magic with youth music organizations, youth orchestras, school ensembles, music conservatories and youth music residential camps.
Dynamic, energetic and insightful, Louise seeks to engage, communicate and enthuse musicians and listeners with exciting repertoire choices that are both unusual and age and skill appropriate. Louise enjoys the process of rehearsals as much as the performance and inspires ensembles and orchestral musicians with musical anecdotes, crazy fun-loving stories and team-building games and technical challenges.
The most rewarding things about conducting and directing groups is enabling musicians to take musical risks and creating an environment for musicians to take ownership of their musical choices and to be an integral part of the music being played.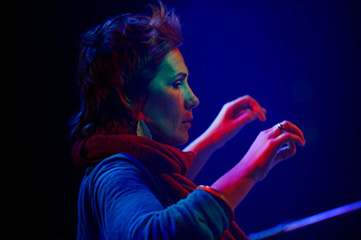 experience
St. Peter's Lutheran College Ensembles Brisbane
Winter Music School String Orchestra Rockhampton
StringFest! Toowoomba
Cello Dreaming Youth & Adult Cello Ensembles
Royal Northern College of Music Junior School Symphony Orchestra, Manchester
Enfield Arts Support Service String Ensemble London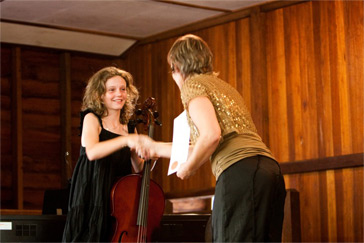 ADJUDICATION
Known for her charisma, sense of fair play and her 'make-music-meaningful' message, Louise King has quickly become one of Australia's favourite Eisteddfod adjudicators. Ironically, Louise doesn't believe music can be judged in 'competitions' but she appreciates and understands the incredible value these community-enriching performing experiences have to offer students, teachers, committees, parents and listeners. Her adjudications are always erudite and encouraging and aims to support and celebrate the great work being done in the community in music education.
Bach Prize, School of Music University of Queensland & Conservatorium of Music Brisbane
Brisbane Eisteddfod
Rockhampton Eisteddfod
Toowooomba Eisteddfod
Sunshine Coast Eisteddfod
Coffs Harbour Eisteddfod
Armidale Eisteddfod
Playing Together QLD chamber music competition for schools
St. Peter's Lutheran School Middle School Eisteddfod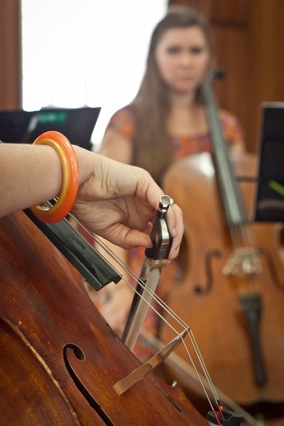 Teacher Training & PD Seminars
STYLES: String Teacher Training, PD Seminars
SKILL LEVEL: Advanced player, string teacher, classroom music teacher
BOOK: Individual teacher mentoring $100 hour, group fee starts at $40 per session. Interested?  Please contact Louise for a quote.
Cello Dreaming understands how self-development and professional training on the job are so important. If you teach, you need to feel inspired and equipped with the many challenges you and your students face. With over twenty-five years teaching experience in many fields – classroom music, instrumental music lessons, tertiary level tuition, workshops, community music, special needs education, school presentations and performance outreach projects, Louise has the motivation and experience to empower teachers to be revitalized and up skill and suggests ways to manage their work flow and student responsibilities.
As a Visiting Teaching Artist to regional music conservatoriums, small regional communities and tertiary level institutions, Louise has successfully spread the joy of teaching and shared creative ways to use improvisation, games and imagery to motivated teachers.
As a member of AUSTA, MTAQ and a regional teacher, Louise understands the core mission of Australia's performing art companies, music educators and teachers and looks forward to working with you and your organization.
experience
New England Conservatorium of Music, Armidale NSW
Private Professional Development Seminars & Sessions Sunshine Coast
Work Experience Teaching Placements Sunshine Coast
EXAMPLE OF PD TEACHERS SEMINAR
Music Teaching Artistry
Being a virtuoso educator
What is a Teaching Artist?
Teaching Artists in the community and the current arts education ecosystem
Guidelines for virtuosic teaching artistry
Reaching out – teach through your love of music
Balancing today's economy with being a fulfilled musician and teaching artist
Exploring Teaching Artistry in one on one lessons, groups, and ensembles
Exploring Teaching Artistry in the community, audience engagement and public performance
Louise King, who has consciously chosen a career as an intrepid musical boundary-crosser, will present an informative and useful seminar discovering and exploring the role of being a Teaching Artist.
Engaging, provocative and practical, this seminar offers guidance, inspiration, and revitalisation. Teaching Artistry offers to reclaim music for music's sake and can provide musicians and educators the specific tools to increase their powers of communication and encourage, advocate, mentor and empower their students and audiences.
PD Seminar inspired by Eric Booth's The Music Teaching Artist's Bible – Becoming a Virtuoso Educator published by Oxford University Press.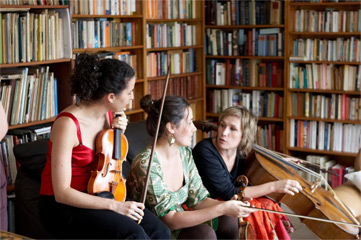 Chamber Music Coaching
chamber music
Playing and studying chamber music is one of the most important and fundamental stepping-stones to developing musical depth and greatness for any musician. Playing chamber music requires special skills, both musical and social, that differ from playing solo or symphonic works.
Because of its intimate nature, chamber music can really be music with friends. For more than 200 years, chamber music was played mostly by amateur musicians in their homes, and even today, when most chamber music performance has migrated from the home to the concert hall, many musicians, amateur and professional, still play chamber music for their own pleasure.
coaching experience
Australian Youth Orchestra Chamber Players
Australian youth Orchestra Young Symphonists Chamber Music Tutor
Australian Youth Orchestra Regional String Quartet Residency Tutor
Winter Music School, Rockhampton Chamber Music Program
New England Conservatorium of Music Chamber Music Program
Playing Together QLD Chamber Music Competition Coach & Judge
Private Chamber Music Coaching
String Excellence Workshops School String Quartet Coach
Royal Northern College of Music Manchester UK Chamber Music Coach
about
Looking to explore and enrich your instrumental skills in a group-learning environment? Discover how to take your own rehearsals and get more out of the music you are playing.
Fancy playing some Beethoven, Haydn or Mozart but not sure which work to start with? Perhaps tempted to branch out and discover contemporary works for your ensemble but in need of some sage advice? Contact Louise for more info and book a session. Louise can come to you.
String quartets, piano trios, duos or any mixed instrumental ensemble (up to 10 players). Not sure where to start or how to get your group off the ground? Try an inspirational session with Louise to unlock your groups potential.
benefits
Great opportunity for established groups working towards competitions, Eisteddfods or performances or for groups who would like to get great tips on rehearsal strategies and ideas on developing their group further. Improve in an engaging and musically enriching session. Performance stagecraft, repertoire choices, interpretation of the musical score, improvisation, group negotiation and communication skills, musical direction and historical general knowledge are just some of the concepts covered.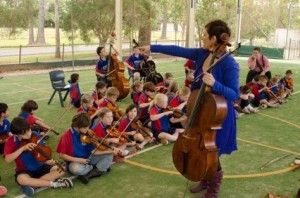 SCHOOL ENSEMBLE COACHING
Are you a school music teacher looking for someone inspirational and dynamic to work with your student ensembles?
Louise is a highly experience educator and conductor who can lead your students through a range of practical performance and composition projects. Louise can work with you to develop workshops and creative sessions at your school that enhance your curriculum and unlock your students potential.
Have you got students needing to polish performances? Louise can visit your school. All types of musical groups are welcome. Private lessons are available. A dedicated and passionate teacher, a coaching session can unlock creative juices, hone and discover new techniques and develop musicianship.
about
Participants develop their playing techniques, aural skills and performance style. The coaching is designed to unify and bring together school ensembles in an inspiring, motivating and fun performance experience.
Contact Louise to organise ensemble coaching at your school.
benefits
Under the expert guidance of a professional musician, the participants will develop their skills of playing in a group. Louise will work with teachers to enhance the ensemble's musical output and motivate ensemble members with a strong focus on blend, balance, energy, posture, tone quality and basic instrumental techniques.
Musicians young or old, teachers or students will benefit from hearing a different and refreshing outlook on their music making, how to get the most out of your rehearsals and professional performance tips.

school ensemble coaching & conducting experience
QSO Chamber Orchestra Regional String Workshop
Winter Music School Rockhampton String Orchestra
Brisbane Grammar School String Ensemble
Mount Gravatt High School String Ensemble
StringOut! Toowoomba
Mulkadee Youth Arts Festival String Ensembles Townsville
Somerset College Gold Coast
Matthew Flinders Anglican College String Fest
Good Shepherd Lutheran College Noosa String Ensemble
New England Conservatorium of Music Armidale
Royal Northern College of Music Junior School Symphony Orchestra UK
El Alsson School Cairo Egypt
Enfield Music Service String Ensemble London