WHEN

:
Thursday 4th January from 6pm with welcome drinks & community meal, through to 5pm Sunday 7 January 2024.
WHERE

:
Eudlo Hall, Rosebed Street, Hinterland Sunshine Coast (Gubbi Gubbi country) Queensland.
ACCOMMODATION:
Please email Louise info@cellodreaming.com.au to request list of local accommodation providers from local Air BnB's, bed and breakfast services.  If you would like to request a local billet with other adult learner participants on the retreat, please email your request to Louise.  We can not guarantee billets are available but will put a request out through our student and community music network.
WHAT

:
Cello Choir

Morning Wellness Classes (yoga, meditation, Feldenkrais (Awareness Through Movement)

Masterclass Series with Gyorgy Deri,  Senior Lecturer QCGU and Louise King Cello Dreaming 

Teaching In Action

Creative Workshops

Technique Classes 

Public Summer Concert Series (Friday 7pm, Saturday 7pm and Sunday 3:30pm) 

Cello Chamber Music

Community Talks on Practice Routines, Musician's Health, Music Industry Pathways, Community Music Opportunities.  
INVESTMENT

: 
Early bird full package tickets $605 are available until 5pm 1st December 2023.  

Full price package tickets $825 are then available until 5pm 4th January 2024. 

Early bird tickets start for individual classes and public concerts at $35.

Full price tickets start for individual classes and public concerts at $45. 

Observer tickets for classes, workshops, masterclasses and rehearsals start at $15.

Retreat Day Passes available $195 early bird, $275 full price.

Please apply your discount code at the checkout and provide your valid AUSTA membership number or student ID card. 
REGISTRATION

:  
Early bird registration deadline is COB 5pm, Friday 1st December 2023.  

Full payment is due upon registration.

Book and pay for individual classes, activities and concerts via the ticketing link. 

The full retreat package covers all educational activities, public concerts, food and refreshments during breaks from Thursday 6pm 4 January welcome drinks to closing event Sunday 5pm, 7th January 2024
ABOUT:
The Cello Dreaming Summer Intensive Retreat redesigns how music is shared, taught, experienced and practiced. 
We offer an inspiring retreat designed to create space to pause, explore and refresh through community exchange and powerful learning.  
The intensive program offers something for every cellist and meets musicians at any level from beginner students to professional players, emerging artists, community practitioners and instrumental teachers seeking inspiration for their teaching year ahead.  
We offer a mixture of face-to-face masterclasses, skill enrichment workshops and talks led by a unique community of internationally acclaimed musicians, teaching artists and holistic practitioners that explore a range of skills relevant to the modern musician from the physical to the intellectual and spiritual. 
The retreat is designed to deepen your approach to practice, improve your musical knowledge and technical skills.  Learning experiences are with an international faculty of musicians and include talks on topics such as career pathways to meditation.  
The faculty are generous practitioners who share tips and tricks, and open ways to learn a range of music from folk to jazz, tango, contemporary, improvisation, baroque to classical. 
Our faculty include leaders in professional orchestras, contemporary folk, and chamber music practices, and specialists include practitioners in Alexander Technique, Feldenkrais Method, yoga, meditation and Body Mapping. 
We address the physical, social and mental wellbeing of students, aspiring musicians, music teachers and professional practitioners.  We create supportive and safe sessions that empower you towards creative and personal freedom.  
We show you how to care for your body and your mind, as well as how to manage your inner-critic, self-doubt, performance anxiety, and provide strategies and resources to deal with injury and encourage freedom of movement and thinking. 
WHO
2024 retreat concert artists and instructors are:

Louise King
Retreat Artistic Director
Cello Dreaming, Muses Trio, Australian Chamber Music Collective, Long Listen Festival

Gyorgy Deri
Senior lecturer cello, Queensland Conservatorium Griffith University, Brisbane, QLD.

Julia Janiszewski
Canberra Symphony Orchestra, Strings Teacher, Environmental Scientist

Monique Clare
Singer-songwriter, contemporary folk artist, cellist

Chloe Williamson
Brisbane Tango Orchestra, Tango Enigmatico, Australian Romantic Classical Orchestra, Queensland Symphony Orchestra, Camerata, double bassist and lower strings specialist

Michelle Freeman Yoga  Specialist
Haha and Vinyasa Yoga, MBodied, Nambour Yoga Centre, Bali and Women's Retreats. 

Kathryn McKee
Indie pop artist, singer-songwriter, arranger, Angel Strings, cellist.

Sherab Holley
Strings Teacher, violinist, meditation teacher, naturopath Amrita Health
SNAPSHOT ITINERARY

:
8:00 

Arrival & Class Physical Activity i.e. 

yoga

 
1:30 

Creative Class Series i.e folk, tango, improv
3:30 

Cello Choir & Ensembles
5:00 

Daily Exercise | Personal Reflection Time
5:30 

Sound Check for Concert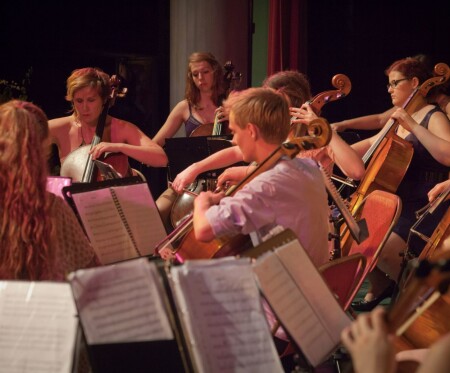 FAQ:
This retreat is designed for every cellist and caters for beginner, intermediate and advanced level streams.  
Each participant can choose to participate at their own technical, physical and social comfort level with class material and group workshop activities specifically designed to cater for a multilevel and a multi-age environment.  
Masterclasses are more beneficial for grade 6 AMEB and above participants. If you are interested in participating in the masterclass series, please tick this box on the registration form. 
How do I register and book for the retreat?: 
Please be patient while registrations are being processed once submitted.  
Please email Louise at

info@cellodreaming.com.au

if you have any questions.
Participants will receive a confirmation email by 22nd December  2023 with the final retreat schedule, a participant kit and a link to download cello choir music for personal practice and preparation. 
What are the activities?
Classes & Workshops: 

Guideline is grade 2 AMEB and above to advanced diploma.
Masterclasses

:  Grade 6 AMEB and above.
Cello Choir

:  All participants in a multilevel cello orchestra (beginner – advanced streams)
Cello Chamber Music

:  Advanced participants, grade 5 and above 
Community Talks

:  Topics are diverse and suitable for all musicians, all levels, all ages. 
Public Concerts

: The Cello Choir will be the final mass item on Sunday afternoon closing concert.  All other public concerts will have faculty and student items. If you are keen to perform, please indicate this on the registration form. 
Wellness Activities

: The morning class is suitable for any musician at any level.  If you have a physical injury or limitation, please participate at your comfort level and capacity. You know your body the best.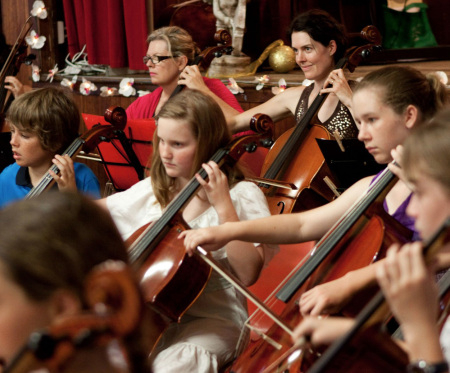 What age can participate? 
Age 9 – adult suitable. There is no upper age limit i.e. adults and professional practitioners are very welcome.
What levels does the retreat cater for?
Beginner (grade 1 to grade 4 AMEB)
Intermediate (grade 5-7 AMEB)
Advanced (grade 8-Amus diploma)
Professional (emerging artists, string teachers, professional players, community practitioners, amateurs, retired teachers
Who is this retreat for? 
The Summer Intensive Retreat is designed for: 
Aspiring young cellists (looking for school holiday activities).
Emerging artists (aiming for a career in the music industry).
String teachers (looking for professional development).
Amateur cellists (beginner to advanced adults). 
Community practitioners (members of community ensembles and orchestras). 
Professional practitioners (looking to deepen their practice). 
Who are the guest instructors and artists? 
Each year the line-up will change and guest artists, specialists and instructors are invited by Louise King, the retreat designer and Artistic Director. 
Do I book for the whole retreat or can I select the activities best suited for me and my interests?
Yes, book the whole retreat with early bird tickets available closing COB 5pm Friday 1st December 2023. 
Yes, pick and choose your activities and create your own retreat package.
How much does it cost?
You can purchase the retreat package, or buy a bundle of activities best suited to your needs and interests. 
Price is calculated at checkout. 
How can I get to the retreat?
Train: Eudlo Hall is accessible via the train direct from Brisbane and is 150 meters walking distance from the station.  Please see translink for the latest service timetable.
Car: If driving, it takes 1.5 hrs by car via the M1 from Brisbane CBD.  Car Parking is available outside the hall on the street or at the school opposite the hall or on Rosebed St near the Eudlo General Store. 
Plane: Sunshine Coast Maroochydore airport is 30 mins away from Eudlo. Uber, taxis and airport transfers are available and can be booked online. 
Do you have a list of local accommodation providers?
Yes, please request a list.  Please support local accommodation providers and small bed and breakfasts in the community.  
If you are interested in being matched with a local billet, please indicate this on the registration form. We can not guarantee local billets are available.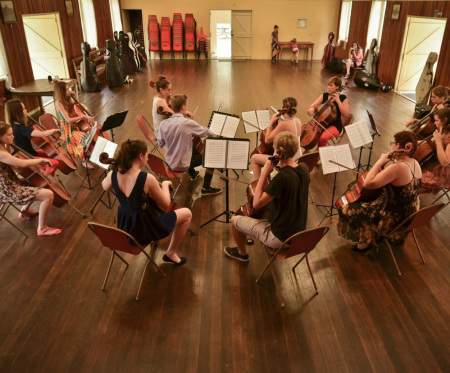 What do I need to bring?
Cello: endpin stop, bow, rosin, spare set of strings, tuner
Music Stand (label with your name)
Notebook, pencil, eraser 
Device: smart phone, zoom, iPad, tripod, chargers
Water bottle
Insect repellant
Sunscreen
Sun hat 
Yoga / exercise mat & pillow 
Comfortable clothing & shoes 
Concert outfit
TESTIMONIALS

:
"Shania absolutely loved the retreat which provided a sound haven for her social, musical, academic and emotional development."

– Dr Sharon Dekkers PhD, MEd.

"I feel that this retreat gives us the key to open the door to not only better playing, but also the heart of music-making."

–

Maria Bashford – Gold Coast.

"You have helped us translate ink on a page into the most beautiful musical meaning, put our emotions into the way we play and be okay with our mistakes!" –

Julia AYO Young Symphonist Program.

"I can't thank you enough for your animated teaching and the passion for music which you openly shared with the children.  She had a fantastic retreat weekend and loved every minute of the experience."

– Amanda Heit, mum.

"A rich musical experience for students, from the enthusiastic beginner to the aspiring professional with opportunities to perform and to take part in ensembles and master classes."

–  Dr. Cowley LWCMD, ARCM, ARCM
RETREAT TERMS & CONDITIONS: 
Please read the following terms and conditions carefully. You must not make any booking unless you understand and agree with the following terms and conditions. References to "us", "we" and/or "our" in these booking terms and conditions shall mean Cello Dreaming. 
COVID PROTOCOL

:
Our first priority is to protect the health of everyone who comes to the retreat program, including our instructors, practitioners, participants, and audience, while respecting their personal health practices.  We follow state COVID-19 guidelines and protocols that are currently in place. 
Please do not attend if you are feeling unwell and present with covid related symptoms.  Please take a test and self- isolate.  If you have symptoms and test positive for Covid-19 during the retreat, we will ask you to return home to care for yourself. 
If you recently have been in close contact with someone who has tested positive before the arrival day, we encourage you to cancel your booking. Please email us if you are in this situation so we can send you more information.
CANCELLATION FEE:
Subject to your refund and remedy rights under the Australian Consumer Law, the following cancellation fee applies to our full retreat package and online bookings. 
Cancellations to confirmed bookings made up to 7 days prior to retreat will not incur a cancellation fee.
Cancellations to confirmed bookings within 7 days of retreat will incur a cancellation fee of 25% total cost of your booked activities.
 Upon cancellation, we will endeavor to resell your place on retreat. However this is not guaranteed and if unsuccessful you will incur the cancellation fee as per our policy.
REFUNDS

: 
Where applicable, refunds will be processed back to your original method of payment. 
PRICES

:
All prices are subject to availability and can be withdrawn or varied without notice. To proceed with your registration and secure your booking, we require full payment.
LIABILITY:
To the extent permitted by law, neither Louise King or Cello Dreaming, employees or guest artists accept any liability in contract, tort or otherwise for any injury, damage, loss (including consequential loss), delay, additional expense or inconvenience caused directly or indirectly by the acts, omissions or default, whether negligent or otherwise, of third party providers over whom we have no direct control, force majeure or any other event which is beyond our control or which is not preventable by reasonable diligence on our part. 
SPECIAL REQUIREMENTS: 
Please advise any special requirements you may have including travel arrangements, special meals, or disabled access.