Product Description
5 x 45 minute lessons lessons are with Artistic Director, professional cellist & Teaching Artist Louise King and held in a relaxing and comfortable teaching studio Hinterland Sunshine Coast, selected community venues and central locations in Brisbane.
Not sure? Call Louise on 07 5445 9171 to find a package that best suits your needs.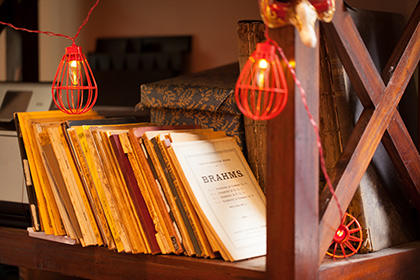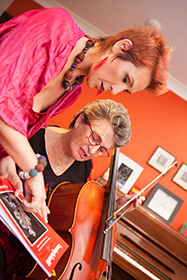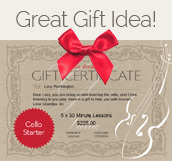 Cello Dreaming Lessons are available for purchase as a special Gift Certificate.
Cello Dreaming Lesson Packages Terms & Conditions
Please see the New Students page for downloading New Student Contract and Cello Dreaming Teaching Studio Policy. Cello Dreaming aims to provide the best cello lessons possible. We value your time and money and if you are buying and booking cello lessons with Cello Dreaming we request you read THE SMALL PRINT. Cello Dreaming Terms and Conditions are written to encourage the dedication and commitment of all students, whilst ensuring the provision of the best quality music education for all students taught by Cello Dreaming.
THE SMALL PRINT – PLEASE READ
A Cello Dreaming Gift Certificate entitles the named recipient to the specified number of private lessons, Intensive Lessons or group course only during the calendar year it is purchased.
A Cello Dreaming Gift Certificate has no cash value and may be redeemed only for the specified lessons package or group class course of equivalent value.
A Cello Dreaming Gift Certificate must be claimed within one calendar year of the purchase date. The purchase date is the date that the voucher is received by the person buying the certificate.
If the Cello Dreaming Gift Certificate has not been redeemed within one calendar year of the purchase date, Cello Dreaming is not liable to provide tuition to the owner of the certificate.
Cello Dreaming operates on a 'first booked first served' basis and suggests booking in for purchased lesson packages and group classes as soon as possible.
Cello Dreaming cannot guarantee availability of lessons or group classes if the student does not contact Cello Dreaming and book in advance.
To redeem a Cello Dreaming Gift Certificate and book in for lessons or classes with Cello Dreaming phone Louise King on 0415 128 799 or email on info@cellodreaming.com.au A Cello Dreaming Gift Certificate will only be redeemed if mentioned when booking in advance (by phone, email or in person).
Cello Dreaming is not able to replace lost, stolen or expired Cello Dreaming Gift Certificates.
Cello Dreaming will not accept damaged, defaced, illegible, copied or altered Cello Dreaming Gift Certificates.
Under no circumstances will any refunds be given.
Only the recipient named on the Cello Dreaming Gift Certificate can use it: it cannot be passed to or exchanged with others.
Booking Lessons
Except for group courses where a place is already reserved for the recipient by the giver, a gift certificate does not guarantee a place on Cello Dreaming private lesson timetable or on a group course. The recipient should contact Cello Dreaming at his/her earliest convenience, in order to book the lessons/course. Space is limited on group courses and bookings are made on a first-booked, first-served basis. If the recipient is taking private lessons, he/she will be asked to choose from the places available on our timetable. Scheduling of private lessons will depend on available time slots with the teacher Louise King. Scheduling of Term Enrolments takes place no earlier than two weeks before the start of term. Should no suitable places be available on group courses or on our private lesson timetable, the recipient can take his/her lessons/course at a later date. Booking of Intensive Lessons is subject to teacher availability.